OUR HISTORY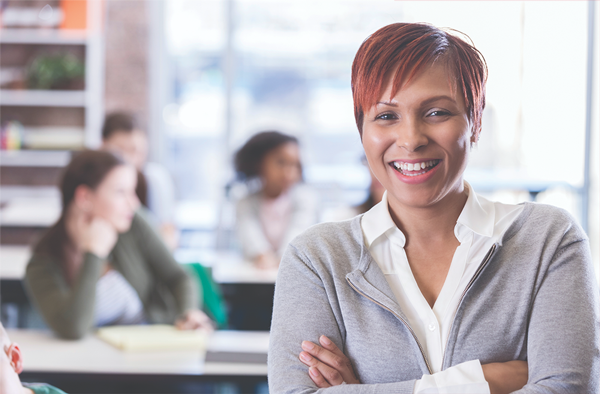 Macmillan Education South Africa is a world-class educational content and service provider. As a trusted publishing brand, Macmillan Education provides content in relevant and flexible formats. The Macmillan Teacher Campus, a professional accredited teacher training unit, was officially launched on 3 May 2007. Our offering includes training and support in all phases ranging from ECD, GET, FET as well as TVET colleges. We are also renowned for our accredited training courses.
We make use of knowledgeable and experienced professionals from different fields of education in South Africa. We develop workshops and courses aligned to the needs and current trends of the education profession.
At Macmillan Teacher Campus, we understand that no curriculum is static and that it has to adapt to new knowledge, skills and methodologies to enhance teaching, learning and assessment. We assist educators, lecturers, departmental officials and learners to take on the challenges of the twenty-first century.
OUR VISION
At Macmillan Teacher Campus, our vision is to empower, motivate and develop educational professionals in South Africa and to provide a learning pathway to continue their professional development. We aim to support learners to reach their full potential through our revered learner-support programmes.
Our mission is to:
Offer tailor-made courses for educational professionals
Offer curriculum- and unit standard aligned workshops and courses
Provide cutting-edge training aligned with the needs of the education system and profession
Provide educational professionals with a positive training experience and a gateway to career success through lifelong learning
Provide specially designed programmes and resources to assist learners to reach their full potential in their selected subjects.
OUR OFFICIAL RECOGNITION
Accreditation
Macmillan Teacher Campus is an accredited training provider.

All workshop and course material is developed according to the SACE requirements and submitted to SACE for Professional Development (PD) point allocation. As a SACE-approved training provider, Macmillan Teacher Campus is proud to be a significant role-player in the implementation of the Continuous Professional Teacher Development (CPTD) system. Macmillan Teacher Campus submits attendance registers to SACE to award PD points to educators who have attended our workshops.

OUR EXPERTISE AND PROGRAMMES
We are passionate about education in our country and we are committed to uplifting and developing educational professionals and learners. Our diverse services and programmes are illustrated in the diagram below.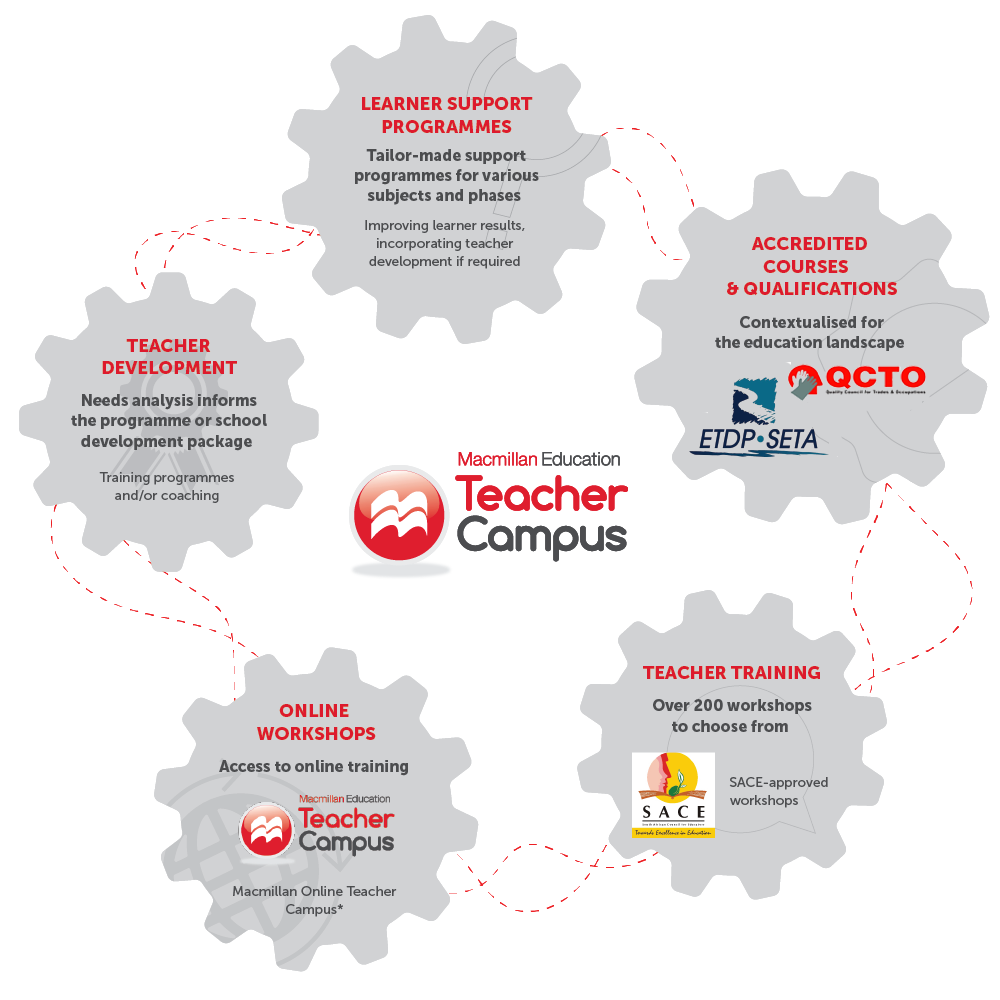 ECD qualification
ECD 1-year Qualification – QCTO Accredited
This qualification teaches you to provide quality early childhood development services for children in a variety of contexts, including
community-based services, ECD centres, at home and in institutions.
Macmillan Online Teacher Campus (MOTC)
Easy online access to a variety of workshops
Accredited Courses with ETDP-SETA
Assessor, Moderator, Facilitator, Effective writing and presenting in English
Workshops
Large variety to choose from
Hands-on and practical
Curriculum aligned
SACE approved (Professional Development Points can be earned)
Our workshops range from an afternoon to five full days.

Tailor-made programmes are designed based on your specific needs analysis

Teachers attend a pre-scheduled list of workshops and the programme is concluded with an awards ceremony
On-site Teacher Coaching and Mentoring
On-site sessions during class time
One-on-one coaching sessions include hands-on support with planning, preparation, classroom management, assessment and demonstration lessons
Macmillan eLearning Development Schools (MeLDS)
Schools receive tailor-made intensive eLearning and ICT training to increase digital fluency
Learner Support Programmes
Saturday tutor classes, afternoon classes, holiday classes and intensive exam preparation in most subjects
On completion of our courses we issue two types of certificates:
Attendance Certificates
Competency Certificates – issued on the submission of a Portfolio of Evidence-based on the training.
WHY CHOOSE US?
The strength of our training lies in the fact that we:
Offer tailor-made training for educators and lecturers. All our unit standard courses are contextualised to conform to educational practices aligned to the Department of Basic Education and to TVET colleges' policies and guidelines.

To ensure the highest standard, our workshops and unit standard courses are piloted with educators, lecturers, HODs and subject specialists from different provincial education departments and TVET colleges.
Understand the curriculum
Macmillan South Africa has published for the education sector for more than three decades and have gained an extensive understanding of education in South Africa. The developers of our training material and our facilitators have thorough knowledge and a practical understanding of the curriculum and the challenges educators and lecturers face when implementing the curricula.
Understand educators' needs
We are in contact with educators, principals and TVET college lecturers on a daily basis. As a result, we are aware of their needs, concerns and their specific challenges.
Are aware of developments in education and curriculum
Our research and our interaction with experts in the educational field, affords us the opportunity to obtain firsthand knowledge which is pertinent to our success. We are in touch with the latest trends, policies and campaigns initiated by the Department of Basic Education and the Department of Higher Education and Training.
Use the latest National Department of Education Policies (Schools – Public and Private)
Our workshops and training courses are designed in line with the most recent policies and guidelines, as well as the current curriculum.
Use the latest Department of Higher Education and Training Policies (TVET colleges)
We are in constant consultation with the DHET policies and those who are instrumental in their mediation. This enables us to maintain the quality of our material and to deliver precise professional development programmes for those involved in the TVET college sector.
Use experienced trainers, mentors and coaches
We pride ourselves on the competence of our trainers who are all qualified and experienced professionals with a sound knowledge of the latest curriculum and related policies.
Offer convenient training
Our courses and workshops are conducted upon special request at any location in all nine provinces. As such, we make quality, affordable training accessible to everyone.
Address the Integrated Quality Management System (Schools)
Our courses address all the Performance Standards (PS) contained in the Integrated Quality Management System (IQMS).
Offer unique Learner Support programmes
MTC acknowledges that all learners have real and unique requirements that are contextual and must be met. In order to guide them towards achieving the relevant skills, values and knowledge in the selected subjects, our learner support programmes ensure that learners are given the opportunity for success.
Our learner support programmes provide opportunities for learners to attend afternoon, Saturday and holiday classes led by experienced tutors using different, effective methodologies. The aim is to maximise learner attainment in various subjects across all phases.
---