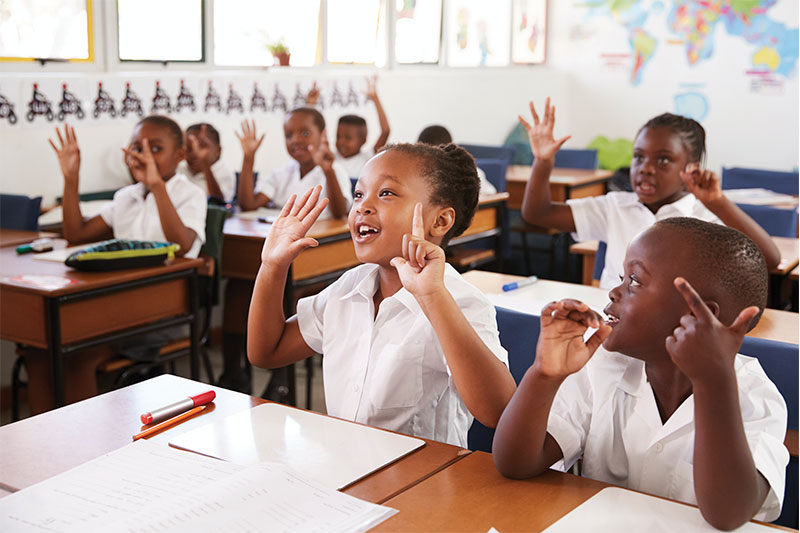 Macmillan Education South Africa is at the forefront of innovation, supporting the transitions of the traditional South African classroom into a blended learning environment – offering print, digital and online products.
Our specialised publishing teams work with respected South African authors and educationalists in order to develop and evaluate materials of the highest standard and quality that enhance the teaching and learning experience for everyone – whether it is a child in a Grade R classroom reading his first word, a teacher teaching Grade 10 science or even a TVET college student.
Our offering for the public as well as private schools includes a comprehensive spread in all grades, all official languages, and all subjects. Our two core textbook series are Clever and Solutions for All. Our offering also includes the well-known Guidelines Blue Book Study Guides and a variety of literature, as well as other exciting reading materials.
We also have a widespread of the classroom and teaching resources available that cater for all grades, and include dictionaries, atlases, map skills, technology kits, intervention programmes and much, much more.
Our TVET FIRST Series for NCV as well as NATED courses is a series that we are very proud of and that is currently the TVET College market leader.
We continuously invest in cutting-edge digital content for schools and TVET Colleges to provide flexible, quality solutions that bring together print and digital. We also assist teachers in integrating new technologies with sound pedagogy.
We understand that being a successful educational publisher is not only about creating exceptional teaching materials. Educators also need skills to be able to make the biggest impact on their learners or students which is why teacher and lecturer training is integral to what we do at Macmillan Education South Africa.
Macmillan Teacher Campus is an ETDPSETA accredited and a SACE registered professional teacher training unit. Courses and workshops are developed to empower, motivate, and guide educators and TVET College lecturers, and to provide a learning pathway for them to continue their professional development.
Macmillan Education - AdvancING Learning
We...
help learners and students to achieve more
By...
listening closely to the experiences of teachers and lecturers
And...
partnering with South Africa's most respected authors and educationalists
So That We Can...
support learners, students, teachers, lecturers and institutions through a lifetime of learning
We do this by...
Providing the highest quality content in the most relevant, engaging and flexible formats which...
make learners and students excited to learn
help teachers and lecturers better engage in the classroom
give learners and students the opportunity to learn for themselves
enable teachers and lecturers to continue to develop professionally
bring subjects and disciplines to life
give learners and students the skills to move from classroom to workplace
elevate education in South Africa to much greater heights
encourage a lifelong love for learning.