A mentor is a person who is successful and is trusted through their positive track record. A trusted advisor, support structure and guide.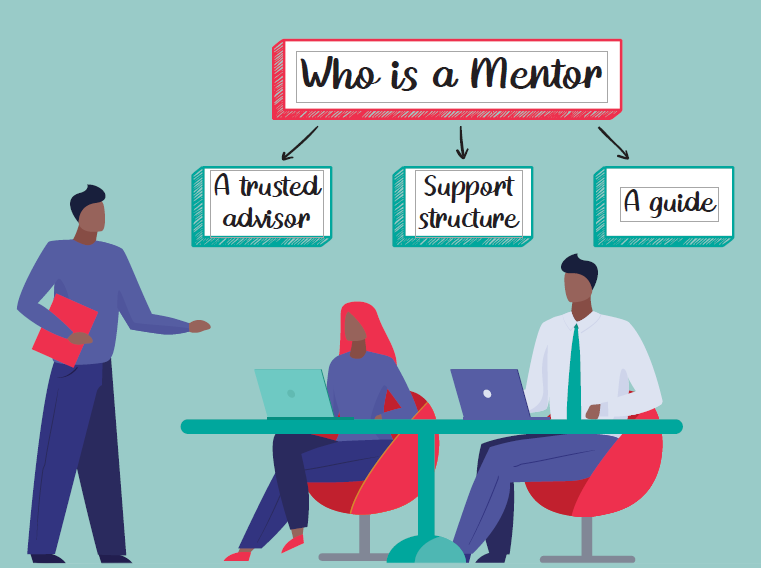 The roles of a mentor:
support your mentee
help your mentee develop a career that reflects their potential and goals
offer wisdom, knowledge, experience, constructive criticism, connections and resources
focus on your mentee's overall career directions rather than on day-to-day concerns
set an example for the level of success your mentee hopes to achieve.
There are three types of mentors. Peer mentors are two people teaching the same subject, grade or class. Career mentors support their mentee in terms of career goals and the Life Mentor acts as a sounding board.
To become an effective mentor:
Treat each mentee uniquely as they are all different – one size does not fit all.
Work out the expectations for both the mentee and the mentor.
Get to know your mentee so that when you give advice it is evident that you took their genuine interests into consideration.
Learn to be a good listener – in this way when you give advice it will be at the right time.
Be emotionally in touch so that you can read and understand each other's body language.
Don't make assumptions – always ask.
Be free and open to admit your errors so that you both grow together – it makes your mentee see your vulnerability and improves the trust.
When your mentee has done well through confiding or an achievement – be sure to celebrate.
Always give of your best – give 110% even if you get back only 40%.
Most importantly – lead by example.
Be an inspiration to yourself and others.
Types of mentoring

Informal

Formal

It is on an ongoing basis

Enhances professional growth

The informal relationship that offers support

It offers support in a structured manner

The relationship ends naturally

Has a specific focus

It may not provide the feedback opportunities that are required

Feedback is always provided
Source:
• https://blog.hubspot.com/marketing/mentor-tips-positiveimpact
• Goodman,M. 2014. Mentoring. MacMillan. South Africa